OFFICE is a leading edge fashion footwear specialist, providing style conscious customers with innovative shoes to suit every occasion. We pride ourselves on our unique product range – created by our in-house design team and global brand partnerships, all of which are recognisable by their individuality, design and quality.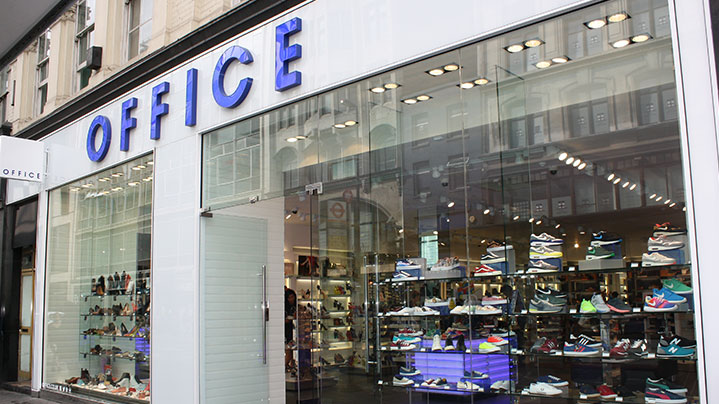 OFFICE was first established in 1981 as a concession in the Capital's department store of choice, 'Hyper Hyper'. Our name was born from the fact we originally displayed our products on old office furniture; a quirky detail, which is representative of the brand to this day. We proved such a hit with London's fashion scene that we opened our first stand-alone store on the Kings road in 1984. Since then we have continued to grow and acquire stores in some of the most celebrated shopping destinations across the UK.
Following our success in the UK, OFFICE began its overseas expansion in 2004, opening stores in Ireland, as well as in Topshop concessions across New York City, Las Vegas and Chicago. More recently OFFICE expanded into Europe, with OFFICE LONDON launching in Germany in 2014.
In 1996 OFFICE launched OFFSPRING a pioneering concept set to revolutionise the world of fashion sports retailing. OFFSPRING was the first sneaker store to fill the gap in the market for fashion sportswear, creating trainers with style at the forefront of their design. To this day OFFSPRING provides our customers with exclusive, limited edition styles, devised by collaborations with a multitude of must-have brands. Twenty years on and we are thriving in numerous stores and concessions around the UK and continue to offer sell-out ranges.
Office was acquired by Truworths International an investment holding and management company in December 2015. Truworths is a market-leading fashion apparel retailer in South Africa offering internationally inspired clothing, footwear and accessories for ladies, men, teenagers and kids across a diversified portfolio of its own exclusive brands. Read more about Truworths
The OFFICE Head Office team is based at our central London HQ, where a group of dedicated designers and buyers are consistently presenting pioneering and up-to-the minute trends. Our stores are filled with the best employees on the high street, who deliver passionate, inspiring and individual service to our customers every day. Today we have over 160 stores globally, and an evolving ecommerce platform, helping us to earn our reputation as a fashion leader on the British high street, as well as aiding our continued growth across the globe.